While winter's chill lingers in the air, you can still add a spring to your step with an exotic island excursion. Whether it's spring break with the whole family or a romantic getaway from the everyday, these dreamy destinations will inspire you to live life out loud.
Mark Twain once said, ""Twenty years from now you will be more disappointed by the things that you didn't do than by the ones you did do. So throw off the bowlines. Sail away from the safe harbor. Catch the trade winds in your sails. Explore. Dream. Discover."
Heed Twain's advice and don't let too much time pass before you take a peek at travel enthusiast and avid blogger Jordan Rozum's top picks for a great getaway.
1. Mustique Island, St. Vincent and the Grenadines


Image Source: Paradise-Islands.org
The many islands of the Caribbean offer such a wide variety of wildlife, terrain, atmospheres and prices, it's a daunting task to narrow in on just one island to visit. From the vast rainforests of Puerto Rico to the migrating whale sharks in Utila and the pulsing nightlife of Cancun, the Caribbean offers it all. One of my favorite dream destinations has always been Mustique. It's a private island, technically part of St. Vincent and the Grenadines, owned by the aptly-named Mustique Company. There are scheduled flights to several nearby islands as well as many operators that provide private charters. The island's main draw is its beaches and its privacy, both of which have drawn celebrities and royalty from around the world. In fact, the Duke and Duchess of Cambridge recently visited in January. Mustique also boasts some of the most gorgeous beaches in the region, like Macaroni Beach. The kids won't be disappointed either with an equestrian center complete with pony camp, a tennis club and family-friendly films screened under the stars.
There are many villas and houses on the island varying in size; one of the most impressive is named Gingerbread. It's a private six-bedroom home with an open floor plan perfect for enjoying the sea and its gentle breeze. The house comes complete with two private pools, a private vehicle, the most modern amenities and complete privacy.
http://www.mustique-island.com/villa/gingerbread/index.html
2. Mauritius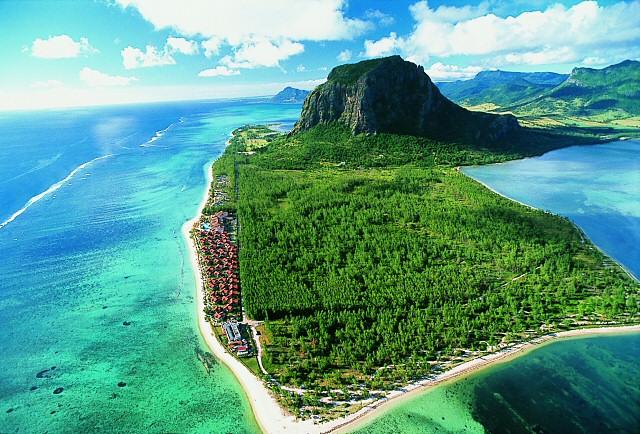 Image Source: mauritiusattractions.com
My second destination takes us halfway around the planet from Mustique to the Indian Ocean. No, it's not that more well-known island nation starting with an "M" in the Indian Ocean. Mauritius is located east of Madagascar and south of the Seychelles; it's remoteness makes it a bit more difficult to reach but that much more intriguing. Flights are available from several major European and Asian air hubs (like London, Paris, Dubai or Hong Kong) as well as many major cities on the African continent (Johannesburg, Nairobi). Mauritius was originally settled by the French and it's quite evident in the island's unique cultural identity. (While the official language of the island is English, French remains the de facto language.) The island is surrounded by calm, temperate waters that make exploration of the thriving coral reefs a must-do. When taking a break from water activities, hiking and enjoying the island's dramatic landscapes and local flora will leave you breathless!
Unlike Mustique, there is a wide range of accommodation available on the island. Backpackers can find budget options, while those looking for a more serene getaway can escape to places like The Oberoi where you can enjoy a sea-view villa complete with a private pool surrounded by lush tropical gardens.
http://www.oberoihotels.com/oberoi_mauritius/index.asp
3. Koh Samui, Thailand


Image Source: FourSeasons.com
From the coast of Africa we travel next to the Gulf of Thailand, a region that has attracted travelers seeking fun in the sun for years. Koh Samui is the more well-behaved older brother of party-haven Koh Phangan, though good times still abound. Reaching Koh Samui requires travel through Bangkok or Singapore (the local airport has flights daily to both cities). Once on the island, be sure to explore the island's vast rainforests and beaches, either by foot or by elephant. An easy way to do this is by arranging transport with a local tour provider to Ang Thong National Marine Park where the native fish and monkeys welcome visiting tourists. Afterwards, reward your body with a Thai massage at any of the island's numerous spas.
While camping in the marine park is an option for the adventurous, The Four Seasons Resort Koh Samui provides accommodation that is a bit less rustic. Its villas carefully balance luxury with the natural beauty of the island – so you don't feel quite as guilty sneaking in some time on your iPad while visiting one of the most stunning places in the world. The resort's "Kids For All Seasons" program offers ample kid-friendly fun from coconut painting and seashell collecting to traditional Thai games and cooking classes.
http://www.fourseasons.com/kohsamui/
For more of Jordan's amazing advice, anecdotes and adventures, check out his blog: http://noshirtnoshoesnoac.wordpress.com/
Have a travel story you'd like to share or a dream destination to add to our list? Let us know!