When CBS' The Talk approached us to shower an audience full of expectant moms with some great gifts for Mrs. O's Million Dollar Baby Shower, we were ready to make it rain! Our Classic Moses Basket, Lucy Lamb and PoshTots gift certificate have always been baby-shower staples. Plus, what better way to start our day than by surprising 250 pregnant women? We are all smiles and simply love seeing that they are too.
Of course, it wouldn't really be a posh party without you. Friend us on Facebook for a chance to win the same baby booty we gifted the amazing audience.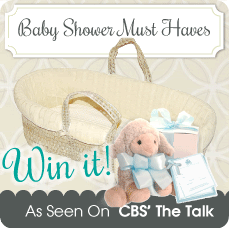 Also, starting on Monday, mention "The Talk" when you contact a PoshTots Design Consultant at 1-866-767-4868 and receive 10% off your order of $250+.
Thanks for helping us make PoshTots The Talk of the town! It's not just a rumor – our baby shower finds really are that fabulous. We also offer many of the other great gifts featured on the show, like the ones below: